George C. Zumbano & Roger N. Huggins Join Lamb McErlane PC as Partners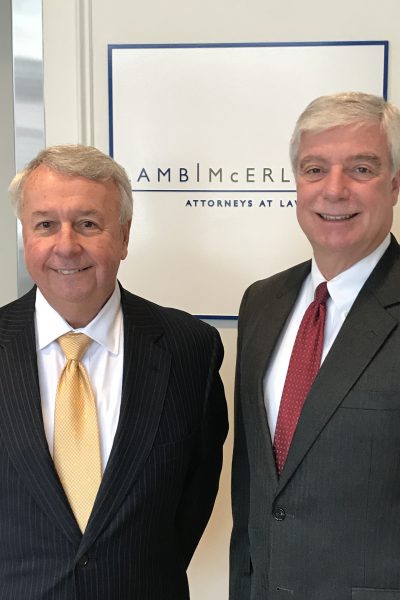 West Chester, PA- Lamb McErlane PC is pleased to announce that George C. Zumbano and Roger N. Huggins have joined the Firm as Partners.
George focuses his practice representing businesses, individuals, and institutions in business and litigation matters.  He is annually recognized as a Super Lawyer in the area of Business Litigation.  He practices in the fields of Commercial and Business Litigation, Personal Injury and Malpractice Litigation, Employment and Personnel Matters, Business Law, Estates and Trusts Litigation, Education Law. George has undergone mediator training through the American Arbitration Association and is frequently appointed to mediate or arbitrate legal disputes.
George is a past President of the Chester County Bar Association and serves as a Delegate to the Pennsylvania Bar Association House of Delegates. He is also a Master in the Stively Inns of Court.
Roger practices in the areas of Commercial and Real Estate Transactions, Real Estate and Equipment Leasing, Business Law, Finance, Banking and Contracts. His clients include individuals and businesses, ranging from small local businesses to publicly traded corporations, lending institutions and public and private non-profit institutions, including public and private schools and school districts.
Roger is past Chair of the Board of Directors of the Chester County Economic Development Council and its affiliates, Southeastern Economic Development Corporation of Pennsylvania and the Chester County Economic Development Foundation, where he continues to serve as a member of the Board and Executive Committee. He is also past Chair and current Board and Executive Committee member of the United Way of Chester County.
"George and Roger are valuable additions to the firm," remarked Lamb McErlane PC Chairman and Managing Partner Joel L. Frank.  "They are highly regarded among their peers and clients for their legal acumen and community involvement. We're thrilled they decided to join us, as have a number of other laterals over the last couple of years."
Lamb McErlane PC, a full service regional law firm based in West Chester, Pennsylvania, has 30+ attorneys and has built a reputation on delivering the highest caliber of legal service in an environment focused on personal attention and results. Bringing the sophistication and experience equated with large, metropolitan firms, Lamb McErlane's highly efficient, goal oriented and focused approach produces results that clients deserve. www.lambmcerlane.com